Hilton Dallas/Park Cities
5954 Luther Lane
Dallas, Texas 75225
214-368-0400
Don't wait to book a room.
Guests wishing to arrive early or stay late may do so, based on availability.
Special Rates up to January 30, 2020
The special rate is available until the group block sells out. Don't wait!
Our 15th Year at the Hilton Dallas/Park Cities!
The XP-Seminar is held at the Hilton Dallas/Park Cities and they provide special hotel rates for us. The hotel has a fitness room, pool and internet connectivity.
Standard rooms have a chair and ottoman, work desk and a 37-inch flat screen television. In room amenities include cable TV with free premium channels and technology options, coffee maker, iron and ironing board, hair dryer, and complimentary weekday paper.
As is common with hotels in urban areas, there is a fee for daily parking fee of $15-17 or overnight parking of $30.
Read More about the Hilton and Environs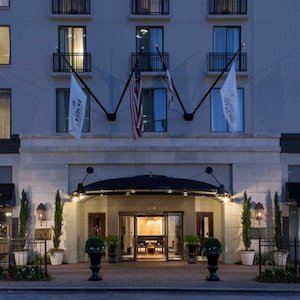 If you need to get air travel to Dallas, or in Dallas a taxi, rental car or fee-based shuttle to get to the hotel, see Travel FAQ. If you need Uber or Lyft, talk to Siri, Genie or Alexa.
Other Hotels from the Hundreds in Dallas …
Food within a Walk
Coffee, Sandwiches, Bakery and Diner
Starbuck's
Einstein Bros. Bagels
South Paw's Café
Salata
Baker Bros.
Carlo's Bakery
Corner Bakery
Panini
Jimmy Johns
Jersey Mike's
Unrefined
Italian
California Pizza Ktchen
Domino's
Macaroni Grill
Ice-cream, Juice Bars and Smoothies
Marble Slab
Jamba Juice
SusieCakes
Hospitality Sweet
Sprinkle's
Steaks, Burgers and American
Snuffer's
Hobdoddy
Hillstone
R+D Kitchen
Sevy's Grill
True Food Kitchen
Nick and Sam's Grill
Mexican
Chipotle
Taco Diner
Taco Joint
Seafood
Asian
Rock-N-Roll Sushi
Pei Wei
Wang's Chinese
Miss Chi
Masala Wok
Local Attractions
American Airlines Center (Dallas Mavericks), 4 miles south
Cowboys Stadium (Arlington), 20 miles
Dallas World Aquarium (family fun), 6 miles south
Dallas Theological Seminary (education), 10 miles south
Deep Ellum District (music), 6 miles south
Galleria Mall (upscale shopping), 5 miles north
Hall of State/Fair Park (education), 9 miles south
Highland Park Village (very upscale shopping), 2 miles south
Hurricane Harbor (water park), 24 miles west
IMAX/Science Place (family education), 10 miles south
Malibu Entertainment (go-carts), 6 miles west
NorthPark Center (upscale shopping), 2 miles east
Old City Park (historical education), 8 miles south
Owens Spring Creek Farm (showcase farm), 13 miles northeast
Palace of Wax/Ripley's Believe It (amusement), 18 miles west
Six Flags Over Texas (amusement park), 23 miles west
Sixth Floor Museum/JFK Memorial (education), 6 miles south
Southern Methodist University (education), 3 miles south
Southwestern Baptist Theological Seminary (education), 40 miles west
Texas Motor Speedway (rnnn rnnn), 37 miles northeast
West End Market Place (varied shopping and food), 5 miles south
West Village Shopping (upscale shopping), 4 miles south
Weather
January—Every four years, Dallas has snow or ice for a couple of days and the entire city stops for at least 24 hours. Otherwise, temperatures can swing from mild to cold to cool. Bring a coat.
February—Temperatures may be cool to mild. Sweaters will be needed during the day and evening. Every 6-10 years, Dallas can have one day of snow in February.
March—Temperatures swing from mild to warm.
Dallas-Fort Worth Airport
The hotel is located 25 minutes from the Dallas-Fort Worth International Airport (DFW)
DFW is a major hub for American Airlines, 800-433-7300

Many other airlines are serviced at DFW
Visit the DFW website for more airport information

Rental cars and taxis

are readily available.

Fee-based shuttle services are available.

City Shuttle, 214-760-1998.
Super Shuttle DFW – 972-456-3128.
Yellow Checker Shuttle, 214-841-1900.
Love Field
The hotel is located 10 minutes from Love Field regional airport (DAL)
Love Field is a major hub for
Rental cars and taxis are available. Taxi service is provided on the upper level across the street from the baggage claim wing of the main terminal building.
Fee based shuttle service is available.

City Shuttle, 214-760-1998.
Super Shuttle, 800-329-2000.
Yellow Checker Shuttle, 214-841-1900.